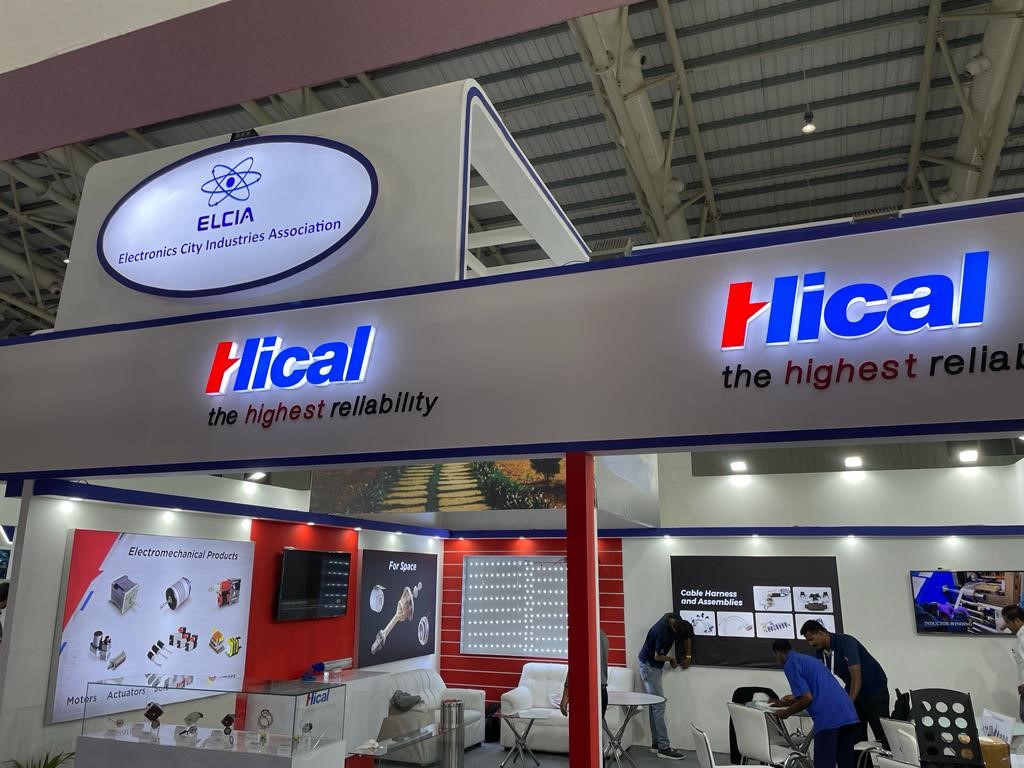 Electronica Productronica 2023, a recent industry event attended by the Electronics City Industries Association (ELCIA) and its members brought together a dynamic congregation of visionaries and industry leaders. This year, ELCIA orchestrated a dedicated pavilion at the exhibition, symbolizing the unity and shared ambition of its member companies and the flourishing Electronics City ecosystem.
Several esteemed member companies participated in this grand event, collectively underscoring the significance of collaborative growth within the Electronics City community. Here's a glimpse of these enterprises that joined hands to make the event a resounding success:
ELCIA Tech Hub (Earlier known as ELCIA Cluster), Tescom Electronics, Synthesis Winding Technologies, Velankani Electronics, PAQs Systems, Hical Technologies, and BMPL actively participated in the event. These esteemed member companies contributed their distinct expertise and resources to the pavilion. While each has its unique strengths and specialities, what truly stood out was their shared commitment to the growth of the micro, small, and medium-sized enterprises (MSMEs) thriving in Electronics City.
The ELCIA pavilion became a focal point of the exhibition, drawing significant attention from attendees. It symbolized not only the innovation and progress of its member companies but also the collective spirit of growth and support that defines Electronics City.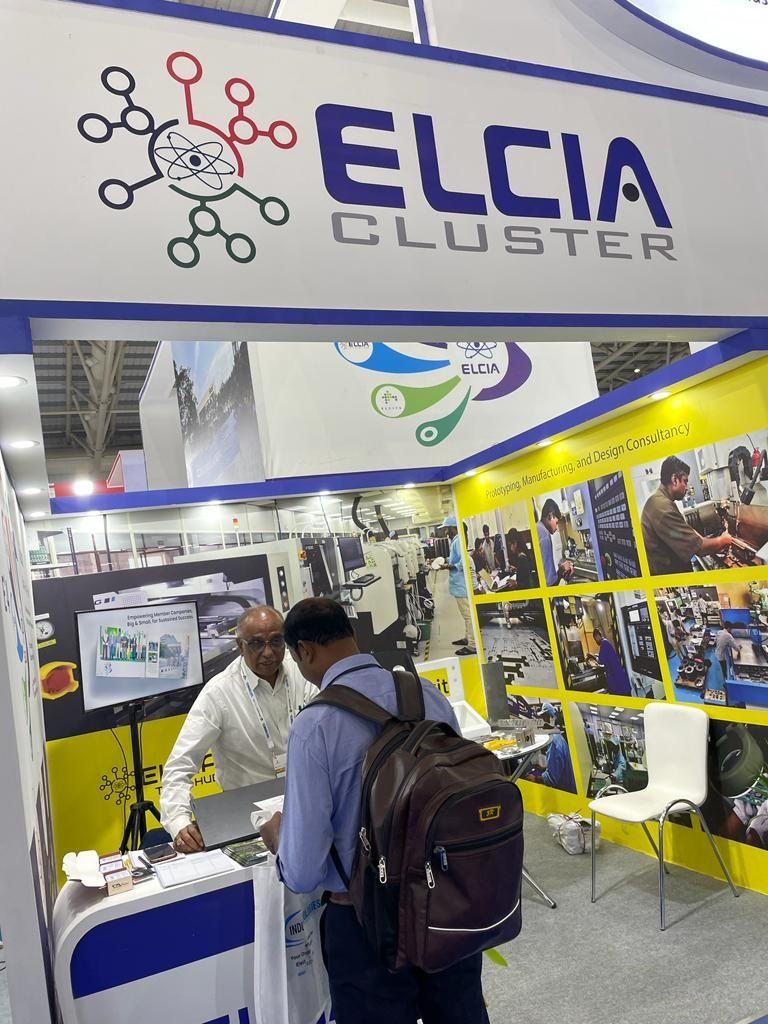 During the event, ELCIA and Tech Hub staff extended a warm welcome to visitors, taking the time to engage with potential customers and acquaint them with the benefits of becoming part of this vibrant ecosystem. Their dedication to spreading the word about the Tech Hub facilities demonstrated their unwavering commitment to nurturing the MSMEs within the region.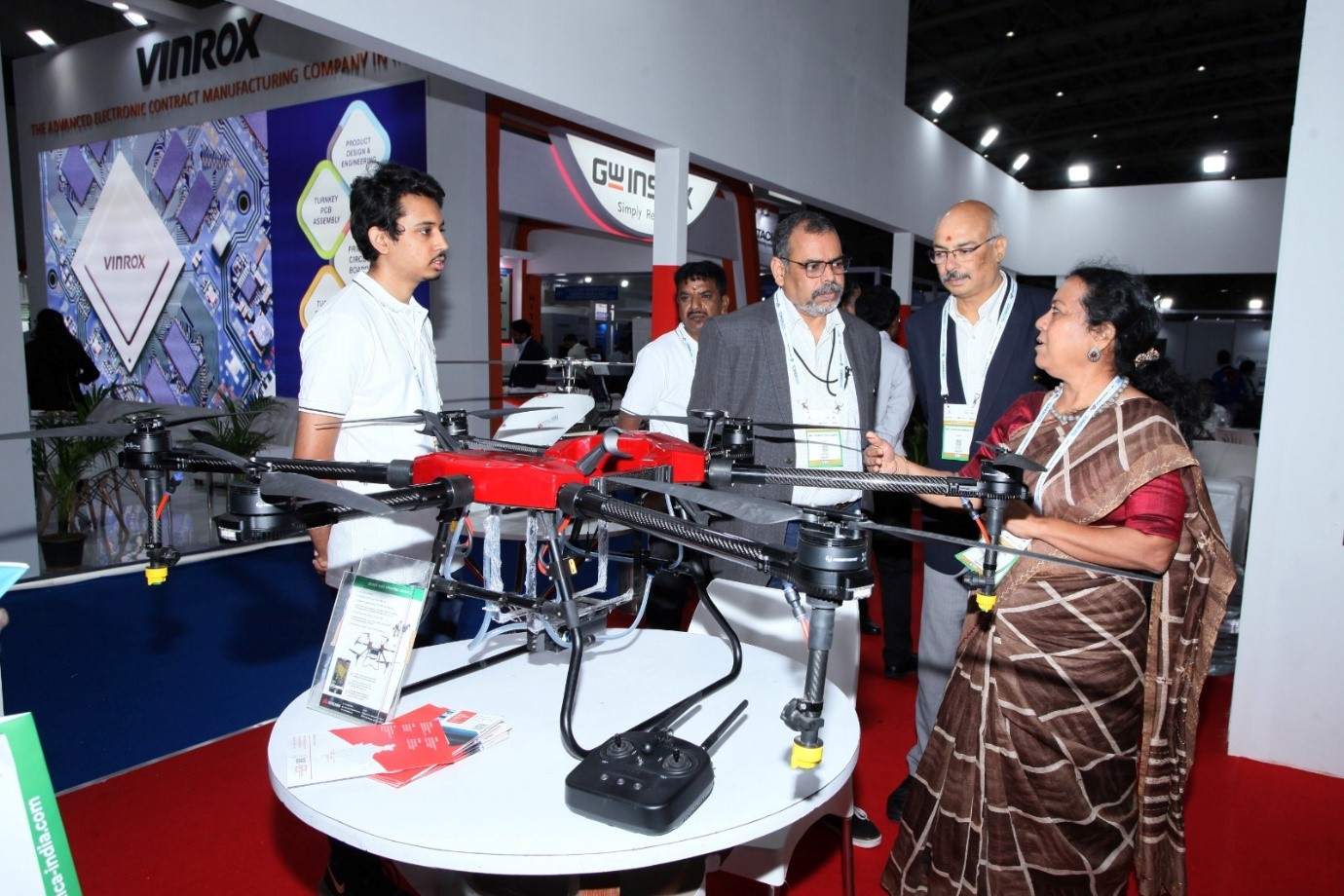 At the ELCIA Pavilion, several companies showcased their special products. Hical focused on things for aerospace and defense. Tescom highlighted their skills in making electronics. Synthesis Winding concentrated on products for motors. Velankani showed off servers and tech gear. PAQs had unique air quality products that people liked.
However, it was Tescom's stall that stole the spotlight, featuring a captivating array of drones that drew a phenomenal response. The booth witnessed an astounding 9,000 footfalls over the course of the three-day show, showcasing the immense interest and excitement generated by these remarkable aerial devices.
Electronica Productronica 2023 was more than just an industry event; it was a testament to the strength of collaboration and the spirit of unity that drives Electronics City forward. ELCIA and its member companies showcased not only their individual capabilities but also their collective potential to shape the future of the electronics industry.
In conclusion, Electronica Productronica 2023 served as a vivid reminder of the power of collaboration within Electronics City. The member companies, guided by ELCIA and Tech Hub, demonstrated that when businesses come together, they can achieve remarkable heights and pave the way for the growth of the entire community, particularly the MSMEs that form the backbone of this thriving ecosystem. This event showcased Electronics City as a beacon of innovation and a hub where collaboration fuels progress.